Name: William Rooke Creswell
Known as:  –
Date of Birth:  20 July 1852
Place of Birth:  Gibraltar, England.
Date of Death: 20 April 1933
Place of Death: Armadale, Melbourne, Victoria, Australia
Rank & Details:  The following is directly in relation to his Qld service.
Appointed Commandant of the Qld Naval Forces on 1 May 1900.
(Released to Captain Protector during Boxer Rebellion. August 1900 – January 1901)
Returned to Qld.
Appointed to a newly created position of naval officer commanding the Commonwealth Naval Forces, on 25 February 1904.
This was additional to his duties as naval commandant in Queensland and, after 20 October 1904, in Victoria
Obituary:
DEATH OF VICE–ADMIRAL CRESWELL

MELBOURNE. April 20.

Distinguished Naval Career

The death occurred tonight of Vice-Admiral Sir William Creswell, formerly Director of the Commonwealth Naval Forces, and First Naval Member of the Commonwealth Naval Board. He retired 14 years ago, and had been in ill health for some time. He had a distinguished career in the British and Australian Navies. Born on July 20, 1852, at Gibraltar, where his father, Mr. Edmund Creswell, was Deputy Postmaster General, he entered the Royal Navy as a cadet in December, 1865, and learned the rudiments of his profession on H.M.S. Britannia. He served in the First Flying Squadron, commanded by the late Admiral Hornby, in H.M. frigate Phoebe. In 1871 he was promoted sub-lieutenant and appointed to the Thalia, on the China station. He was specially promoted for his services in suppressing piracy on the Laroot River, Penang, in 1873, and from 1872 was on the complement of H.M.S. London, engaged in the suppression of the slave trade, for his services in which connection he received the thanks of the Foreign Minister. He retired, after having been invalided, in 1878.

Service In This State

Subsequently he took service under the South Australian Government in 1885, was appointed commander in 1891, and post-captain in 1894. He was Naval Commandant of South Australia for several years, and took the State's gunboat. H.M.S. Protector, to the China war in 1900. In the last mentioned year he was appointed to Queensland to take command of the Marine Defence Forces in that State, and in February, 1904, he was temporarily appointed Naval Commandant of the Commonwealth Forces. In 1909, in company with Col. J. F. G. Foxton. C.M.G., he attended the Imperial Conference which resulted in Australia's co-operation in sea defence, and was chiefly and actively instrumental in the creation of the Australian Navy. Sir William Creswell subsequently received the appointment of First Naval Member of the Com-monwealth Naval Board of Administration, and of the Council of Defence. He was knighted in 1911.

Married a South Australian

Vice-Admiral Creswell was married in 1888 to Adelaide Elizabeth, daughter of the late Mr. Justice Stowe, of South Australia. Lady Creswell survives him. A married daughter lives in South Africa; one son, Mr. Edward Creswell, is shire engineer at Ararat; and a younger son, Mr. Peter Creswell, is on the land. Two other sons were killed in the Great War. A brother of Sir William Creswell is Lieut.Col. F. H. P. Creswell, leader of a section of the Labor Party in South Africa, and a former Minister for Defence and Labor.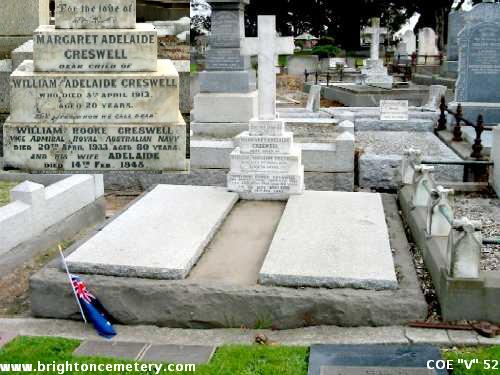 Links for more information:
RAN's Biography of Vice Admiral Sir William Rooke Creswell
Biography – The Australian Dictionary of Biography
Obituary in the Advertiser (Adelaide), 21 April 1933, p 20.