Name: Robert Bruce Nicolson
Date of Birth: 31 May 1838
Place of Birth:  Voesgarth, Unst, Shetland Isles, Scotland
Date of Death: 19 March 1893
Place of Death: Stoke, Damerel, Devon, England
Cause of Death:  –
Buried: –
Rank & Details: First Engineer
Additional information:
Robert Bruce Nicolson (retired list RN) was part of the original crew who sailed Gayundah from England to Australia.
Robert, born in the Shetland Isles to Thomas Nicolson and Margaret Gray was the fifth of nine children.
On the 8 December 1860 at the age of 22 he joined the Royal Navy as an Assistant Engineer,3rd class .during his time in the navy he was stationed in the places like the West Indies and China working his way through the ranks of 2nd class and finally 1st where finally he was promoted to Acting Engineer on the 3 January 1868.
Finally on the 11 May 1870 he was promoted to the rank of Engineer serving at home and abroad in China.
In 1871 at the age of 33, Robert married Elizabeth Brown in Stoke, Damerel, Devon. From this union they had two girls Elizabeth Margaret and Robina Bruce. They lived all of this time in Exmouth Villa, Albert Road, Stoke Devonport in Devon
Finally on the 30 May 1877 he was placed on the retirement list.
"In accordance with the provisions of Her Majesty's Order Council of the 30th of April, 1877, the undermentioned officer has been placed on the retired list of his rank – Engineer Robert Bruce Nicolson, from the 30th ult."  The Hampshire Advertiser 16/6/1877
In 1884 he was part of the crew which sailed for Brisbane on board Gayundah as the First Engineer.
Robert died in Devon an 1893 at the age of 54 years of age.
Family:
Son of:    Thomas Nicolson (1798 – 1850) and Margaret Gray (1804 – ?)
Brother of:-
William Nicolson (1827 – 1907) married Mary Bell; died in Cheshire
David Nicolson (1831 – 1918) married Frances White; died in Australia
Gilbert Spence Nicolson (1833 – 1865) never married; died in Australia
John Nicolson (1833 – 1912) never married; died in Australia
Margaret Ursula Nicolson (1835 – ?)
Thomas Cameron Nicolson (1840-01914) died in Newcastle on Tyne
Ann Cameron Nicolson (1842 – 1921) married Selby Morton;died in Northumberland
Andrew Spence Nicolson (1849 – 1850) died in Lerwick, Shetland Isles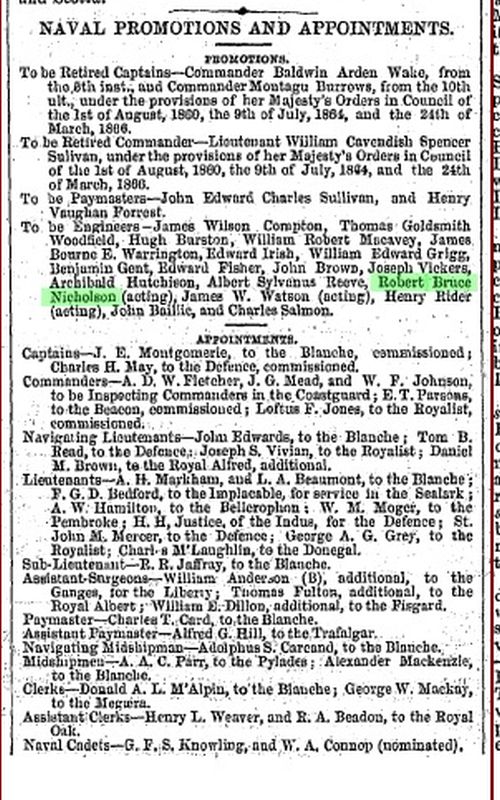 Thanks to:   Larry Wust  (Bendigo,Victoria) – pictured below.